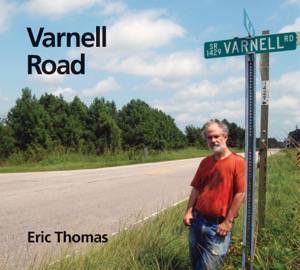 Varnell Road is the first solo CD by Eric Thomas. It includes a collection of songs and instrumentals Eric has written over the years. Eric writes about the kinds of issues and events that make a full life. There are love songs, songs about family, and songs about place. His instrumentals range from the spritely and bouncy to the hauntingly beautiful.

To purchase this CD from this web site, click here.

To order digital downloads of the entire CD or for individual tracks from CD Baby, click here.

Sunrise
The opening tune on this collection starts off with a bouncy, happy feel. Sunrise feels like getting up happy on a beautiful, spring morning!

Play My Guitar
This song is basically a love letter from a guy to his girl friend, from whom he's been physically separated from for some time. Not an uncommon situation.

Cicada Spring / Brokedown Breakdown
Both of these tunes were written during a recent emergence of the 17-year cicadas. The last tune is slower than a normal breakdown, hence; it's a "brokedown" breakdown. Get it?

Runaway Daughter
This song, told from the father's point of view, is about a terrible situation that I've come to learn happens all too often.

Planxty Paul Hayman
This tune was "commissioned" by Paul's wife on the occasion of his 58th birthday. Paul was a dear friend and accomplished fellow musician. Wish you could hear this, Paul.

Stand In The Fire
Eric was inspired to write this song after he saw a young woman sitting in the window of the chapel on Star Island, NH., staring forlornly out the window. Not knowing her story, he let is imagination fill in the details.

Music to Charm Snakes By
When the Beatles came back from India, introducing sitars to Rock 'n Roll music, I started working on this, adding bits here and there. The version here is the result of many years and revisions.

Varnell Road
The title song of the collection is a love song, written by Eric to the farm in Eastern North Carolina where he grew up. You may have a place you feel like this for.

The Road Ahead
This lively instrumental was inspired by the many phenomenal acoustic guitarists Eric has enjoyed over the years. It's his homage to traditional acoustic guitar music.

Baucis and Philemon
This song re-tells an ancient Greek myth with Eric's own twist. The message evokes feelings that are probably common to every loving couple.

Strung Out And Hammered
When Eric and Helen were trying to come up with a name for their band, a friend suggested this. They didn't use it for their band, but Eric thought the title was just too good to waste!

Bungi Chord
This was Eric's first attempt at writing a "fiddle-tune" type instrumental. It's a bit jazzy for that genre, but works well on its own terms.

Hole In The World
Eric wrote this tune shortly after his father died. It tells a bit of their story.

Star Light
Eric had a tough time naming this piece. But it reminded his wife of the ritual on Star Island, NH where, every night, people file up to the chapel, holding candle-lit hurricane lamps. Great image. Great tune!