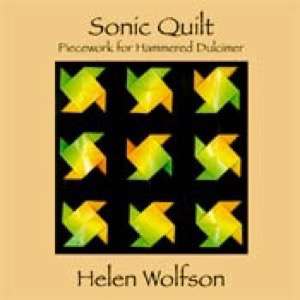 Sonic Quilt, Piecework for Hammered Dulcimer
highlights energizing music, drawn primarily from my entertainment repertoire. It features a number of unusual, contrapuntal arrangements of several works by Turlough O'Carolan, as well as a wide variety of music ranging from ragtime to classical

To purchase this CD from this web site, click here.

To order digital downloads of the entire CD or for individual tracks from CD Baby, click here.

Sheebeg and Sheemore
This tune is the first tune that Turlough O'Carolan wrote. It depicts a battle between two groups of fairies. As a friend of mine said, "Would that our wars sounded like that!"

Cincinnati / Devil's Dream
Cincinnati was one of the first tunes that I learned. I had never heard it, so I played it as a lullaby for my children. Even when I learned that it is generally played fast, I couldn't completely let go of the lullaby version. This arrangement couples the slow and fast versions with another of my favorite fiddle tunes.

George Brabazon
I learned this tune while I was having a house built in Durham. I used to take the dulcimer over to the house on weekends and play in different parts of the house-to-be.

Ashokan Farewell
This well-known tune became famous when PBS used it in their Civil War series. In fact, it was written in 1982, but the emotions it evokes are timeless.

Hewlett
This tune is apparently a bawdy drinking song. I don't think that Michael knew that when he wrote this counterpoint!

Dill Pickles
This tune, composed in the early 1900's, is probably the best known of Charles Johnson's rags. It was the first ragtime tune to sell over a million copies of sheet music.

Eleanor Plunkett
This tune appears on both Lavender Passages and Sonic Quilt. The different arrangements epitomize the different feels of the two CDs: the former is contemplative and relaxing; the latter is more energizing.

Serenade
I first played this piece in a chime choir and couldn't wait to hear it on the hammered dulcimer.

Morgan Magan
Like many of O'Carolan's tunes, this one was written for a patron. O'Carolan, who was blinded by smallpox at the age of 18, made his living roaming the Irish countryside and composing for the people who housed and fed him.

Jesu, Joy of Man's Desiring
Before we were married, when Eric first asked me to play the dulcimer for him, I was at a loss for what to play for a rock 'n' roll and rhythm 'n' blues guitarist. After some reflection, I figured that Bach is timeless, so I chose this piece. It was a good choice. A year and a half later, I played it for him at our wedding.

Fanny Power
This counterpoint is the first one that Michael wrote for me. I learned it the summer after I began taking lessons. It took me most of the summer to learn. I love it anew every time I play it.

Drowsy Maggie
When I first learned Drowsy Maggie, I had trouble hitting all the correct pitches. My teacher told me to go home and make an arrangement based on the incorrect pitches. Here it is. It remains one of Michael's favorites from my repertoire.

Lord Inchiquin
This tune is the final O'Carolan quilt square on the CD. I nearly didn't record it because I had a terrible time with it in the studio on the first attempt. But, at the last minute, I decided that I should really have all of Michael's counterpoints on one or the other of the CDs. I worked on nothing but for about a week and went back and made this recording.