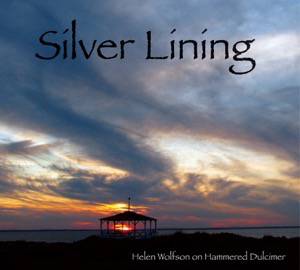 The fifteen tracks on this album are the tunes from my solo repertoire that I most love to play and have not already recorded elsewhere. I hope you'll enjoy listening as much as I enjoy playing them..

To purchase this CD from this web site, click here.

To order digital downloads of the entire CD or for individual tracks from CD Baby, click here.

Midnight on the Water
For years, every time I heard this tune, I would have to ask what it was. Always, I thought it was gorgeous and something I should learn. Finally, one weekend when we had retreated to the mountains, it popped to the top of my to-do list, and I came home with this arrangement.

Cedars in Snow
I learned this tune from the composer, Sam Rizzetta, whose music is often inspired by nature. I like to play it on hot summer days when the vision of trees draped in snow cools me off.

Norwegian Waltz
My first teacher, Michael Pope, wrote the counterpoint for this traditional tune. To play this, you really have to stay in the moment!

Edelweiss
In my work as a therapeutic musician, this piece is one of the most popular in my repertoire. It is not, as many of my listeners think, a traditional Austrian folk song. It was written expressly for "The Sound of Music." It was the last song that Rodgers and Hammerstein wrote together.

Arran Boat
This haunting Scottish air slipped into my heart the first time I heard it. It is stunningly simple and beautiful.

Believe Me If All Those Endearing Young Charms
I used to play a very simple version of this tune when I first started playing, but it had slipped out of my repertoire. This year three friends from three totally different parts of my life put the tune back in front of me. Who am I to resist such a coincidence?

To a Wild Rose
I've heard pianists play this piece, which is one of the celebrations of nature in MacDowell's "Woodland Sketches." Only recently did I decide to give it a whirl on the hammered dulcimer. The simplicity of the piece fits the instrument perfectly.

Summer's End
I learned this lovely piece in the first workshop I ever took from Ken Kolodner. At the time, I doubted that I'd ever be able to play it fluidly, but now it's one of my favorite pieces.

Star Light
My husband wrote this piece for guitar and then suggested that I learn it on the dulcimer. I don't know how a rock 'n roll player came up with this classical-guitar-like piece, but I'm glad he did!

Fair Hills of Killen
This traditional piece is by the 18th century poet Peadar O'Doirnin. Killen is in Northern Ireland.

Somewhere Over the Rainbow
This song tops the list of "Songs of the Century" that was compiled by the Recording Industry Association of America and the National Endowment for the Arts. I initially had reservations about including a piece that has been recorded as often as this one has, but my friends at the Star Island Arts Conference convinced me to include it.

Ian Robertson
This is another tune that I fell in love with the first time I heard it. In this arrangement, I love the contrast between plucking the tune and hammering it.

La Partida
This arrangement of Victor Jara's piece was my introduction to this style of playing on the hammered dulcimer. The arpeggios and the repetition combine to create a mesmerizing effect.

MacPherson's Lament
The story is that James MacPherson created this piece in jail in the week before his hanging and played it under the gallows. Apparently, impending death can be a phenomenal inspiration.

Silver Lining Waltz
I wanted to end this CD with an uplifting piece. I wrote this lyrical waltz just in time!