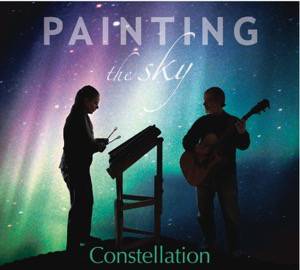 Painting the Sky (hammered dulcimer, guitar, bass, cello, and vocals) is Constellation's second CD. It is filled with high-energy instrumentals, haunting melodies, and catchy tunes, including two originals from each of us.

To purchase this CD from this web site, click here.

To order digital downloads of the entire CD or for individual tracks from CD Baby, click here.

Frosty Morning / Hell Among the Stallions
What better way to start off than with these two great fiddle tunes? "Hell Among The Stallions"… who names these things, anyway?

Old Grey Cat / Pretty Little Dog
When Helen's daughter, Emily, was young, she loved to have these tunes played back to back because of their names. This medley is for her.

Rainy Saturday
Eric was inspired to write this waltz while riding around, running errands with Helen, on a cold, rainy Saturday morning. Here's to bad weather!

Road to Lisdoonvarna
Someone asked Eric whether this tune came from Scotland or Ireland. In typically helpful fashion, Eric replied that it was from which ever country Lisdoonvarna is in -- which turns out to be Ireland.

Lagniappe's Promenade
After Helen had written this tune, it reminded her of a dog belonging to some friends of ours who live in the woods in New York State. Lagniappe loves to go for walks, but unlike the tune named in her honor, she never slows down.

Bobby Casey's Hornpipe / Swallowtail Jig
This is a combination of two traditional pieces that we love. We don't really play "Bobby Casey" like a hornpipe, but Bobby never complains!

Kevin Keegan's Waltz
Helen says this tune just makes her happy every time she plays it. We hope that listening to it has the same effect on you!

Tommy's Tarbukas
We learned this tune from sheet music without listening to it first. It turns out that our arrangement is nothing like the ones you're likely to hear on the Internet.

The Old Folks at Home
Eric wrote this one while thinking about his aging parents, back on the farm. Robbie's cello captures the poignant feeling perfectly.

My Love Is But a Lassie / St. Anne's Reel
These two tunes were made for each other! Thanks to our friend, Paul Hayman, for the idea of the Caribbean flavored "St. Anne's Reel."

Come On In My Kitchen
Picture this: the great blues man, Robert Johnson, trades his soul to the devil at the crossroads so that he can play the… hammered dulcimer! Well… it could happen!

Return to Star
Every year we visit Star Island, off the coast of Portsmouth,NH. This tune evokes the emotions we that feel when we step off the ferry onto the island.

Twister
Sam Rizzetta often gets inspiration for his tunes from nature. This one was inspired by a tornado that crossed the road right in front of him. VERY inspiring, indeed!