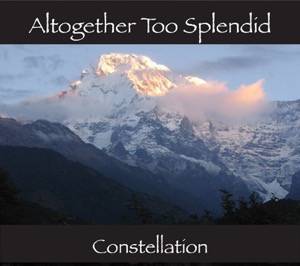 Altogether Too Splendid (hammered dulcimer, guitar, bass, cello, and vocals), Constellation's latest CD, takes its name from the lyrics of Eric's piece "Ol' Man 'n' Ol' Lady." Everything on this CD, except for one traditional reel, is our original music. You'll find both lively and lyrical instrumentals as well as evocative vocals and a number of unusual compositions that we can only classify as our "eclectic acoustic" genre.

To purchase this CD from this web site, click here.

To order digital downloads of the entire CD or for individual tracks from CD Baby, click here.

Dance of the Swallows:
This piece evokes swallows turning and swooping against a sunset-splashed sky. These particular swallows are on Star Island, off the coast of New Hampshire, but you can imagine them anywhere you like.

Treasured Memories:
Eric sings of his memories of growing up on a farm in a world that no longer exists.



On the Mend:
Helen wrote this tune to honor a friend who faces life with equanimity and optimism even in the face of a scary medical diagnosis.

Ice Dancer:
Helen loves watching all the Olympic skating events, so every four years, we wind up watching them together. This piece is Eric's response to the drama on ice during the high-stakes ice-dancing competition of 2014.

Ol' Man 'n' Ol' Lady:
A lot of love songs are about young people experiencing the first flush of love, convinced that these new, exciting feelings are unique to them. This is a love song for people who've seen a bit of life already.

Cloudburst:
Originally created in response to the suggestion that babies in the ICU would respond well to the musical interval of a fifth, this piece took on a shape that suggests the buildup of a sudden spring storm and its subsequent dissipation.

Forest Reverie:
This piece takes its name from the reactions of the first two people to hear it. Eric described it as dreamy; a friend, who listened with eyes closed, said that it made her see the color green.

Here Comes a Pretty Little Girl:
This tune expresses the joy and abandon of a child, young enough and unselfconsious enough, to run down the hill to a lake, pail and shovel in hand, calling out, "Here Comes a Pretty Little Girl!"

Play My Guitar:
Eric wrote this song decades before we met, and Helen only recently began to accompany him. Even though it is on Eric's CD entitled "Varnell Road," we decided that the addition of the dulcimer merited a second recording.

March of the Polar Bears:
The lumbering rhythm of this piece reminded Helen of polar bears trudging across Arctic ice fields.

Helen's Distraction / Father Kelly's Reel:
Eric insisted on presenting the first piece in this medley to Helen when she was trying to learn Kabalevsky's "Fairy Tale" on the dulcimer. She reluctantly turned her attention to the new piece, fell in love with it, arranged it for the dulcimer, and added a fourth part. Because she still hasn't gotten back to "Fairy Tale," she insisted on this name. The second part of the medley is a traditional fiddle tune that Helen learned from one of her students.

I Believe:
A lot of people think that people who don't believe in god don't believe in anything. This song is Eric's attempt to correct that perception.

Hi Steppin':
We end with a lively tune from Eric. Playing this tune always lifts our spirits! We hope that listening to it will lift yours.