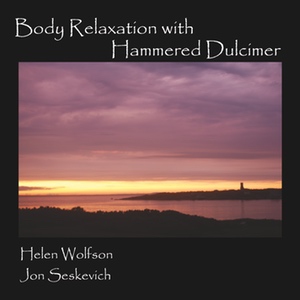 2017 Helen Wolfson (Hammered Dulcimer)
and Jon Seskevich (Spoken Word)
In the fall of 2016, my dulcimer and I found ourselves in a hospital room with Jon Seskevich, an RN whose specialty is stress reduction. We spontaneously worked together to create a profound difference in the patient's attitude. At the end of the session, the patient's mother asked us if we always worked together. Out of that question, a new collaboration was born.


In "Body Relaxation with Hammered Dulcimer" we combine Jon's soothing voice with some of my most mesmerizing recorded music.

To purchase this CD from this web site, click
here
.

To order digital downloads of the entire 32 minute CD from CD Baby, click
here
.
In this recording Jon leads the listener in a guided meditation backed by Helen's mesmerizing music.